Soil Stratigraphy for Trench Logging
Course that is given by Glenn Borchardt every few years (last time was June 2016).
The online course is now available.
The field exercise may be given again sometime after the pandemic is over.
Here is the AEG announcement:
San Francisco Section

Short Course Announcement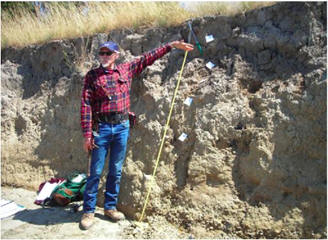 Soil Stratigraphy for Trench Logging
Presented by: Dr. Glenn Borchardt, PhD
Topics to be Discussed:
ABCs of soils: Soil horizons from simple to complex
CTPOT: the factors influencing soil formation
Climate & Topography: how water and gravity help "improve" rocks
Parent Materials: how rocks control soils
Organisms: construction and destruction in soils
Pedochronology: perspective and bookkeeping for the ages
Relative & Absolute dating methods: chronosequences, U/Th, C-14 and others
Laboratory methods: PSD and soil mineralogy
Recognizing important soil features
Soil Tectonics
Dr. Borchardt is the Principal Soil Scientist for Soil Tectonics, Berkeley, California. Dr. Borchardt has a Ph.D. in Soil
Mineralogy from Oregon State University, an M.S. in Clay Mineralogy from the University of Wisconsin, and a B.S.
in Soil Science from the University of Wisconsin. Dr. Borchardt is a Certified Professional Soil Scientist.
This one-day online course consists of six well-illustrated lectures, complete with quizzes and a certificate of completion for those who pass the final exam. Because the course is asynchronous, students have three months to complete the course. The cost is $250, with a 10% discount for the first 30 AEG members who sign up (use coupon code ssftl20). Students get a 20% discount (use coupon code ssftl20stud). There also is a 3-month payment plan.

To find out more about the course and download the free preliminary reading materials go to:

https://go.glennborchardt.com/SSFTL-COURSE